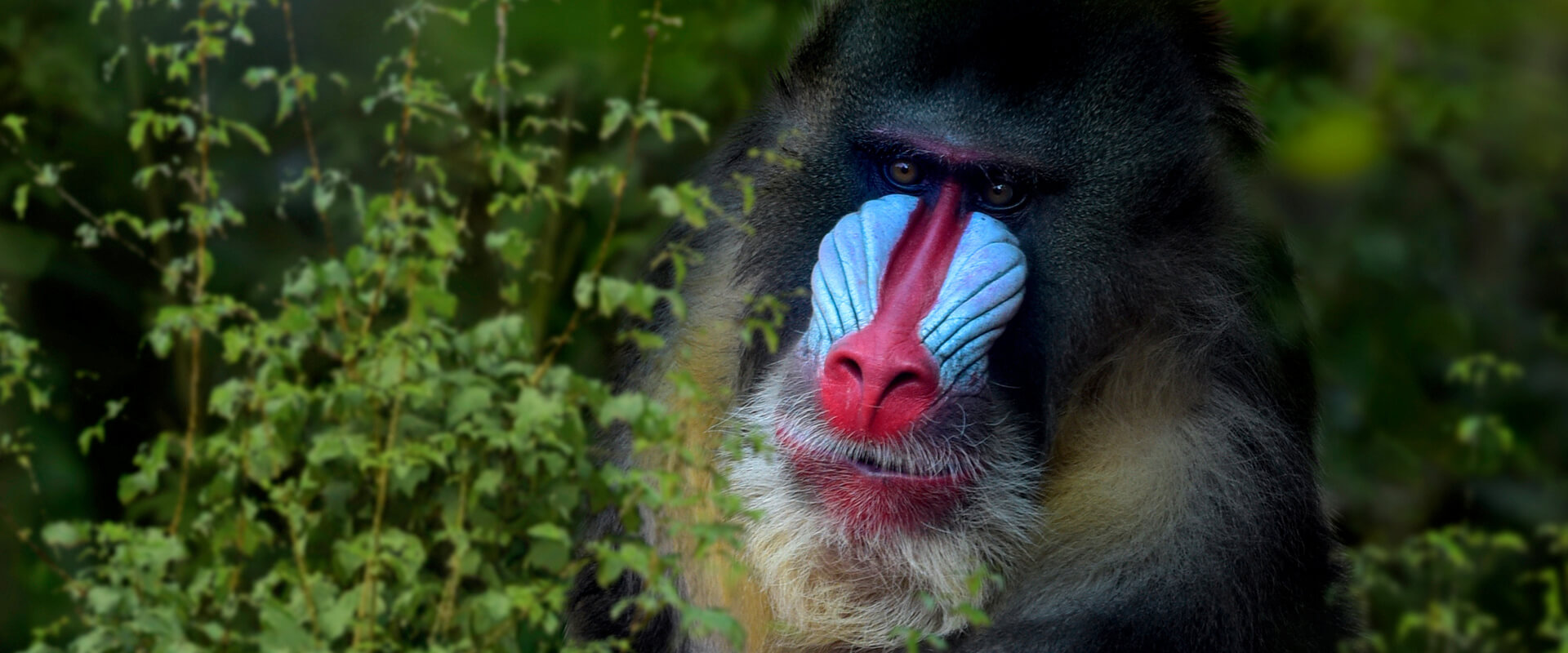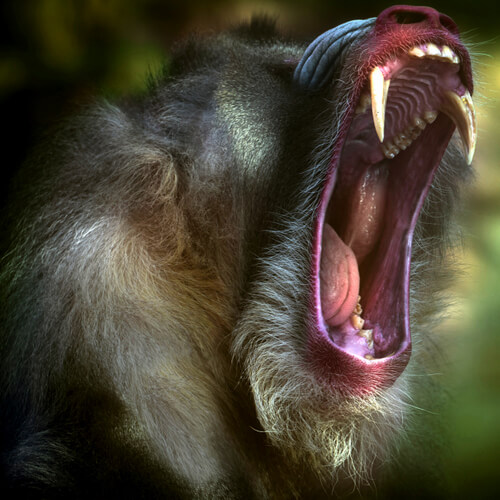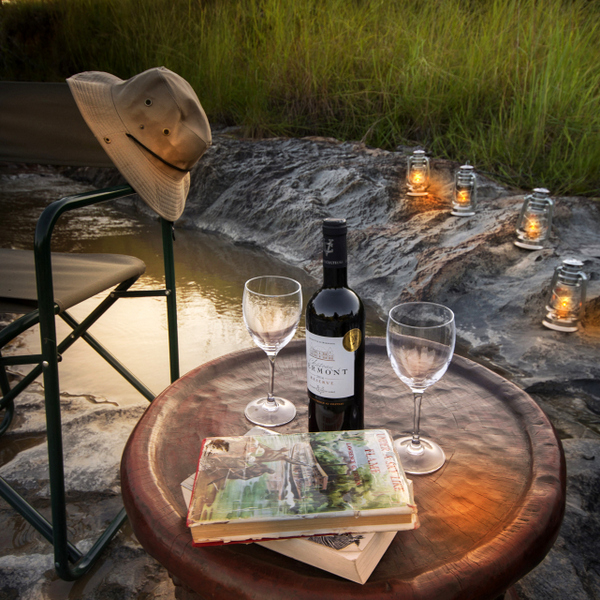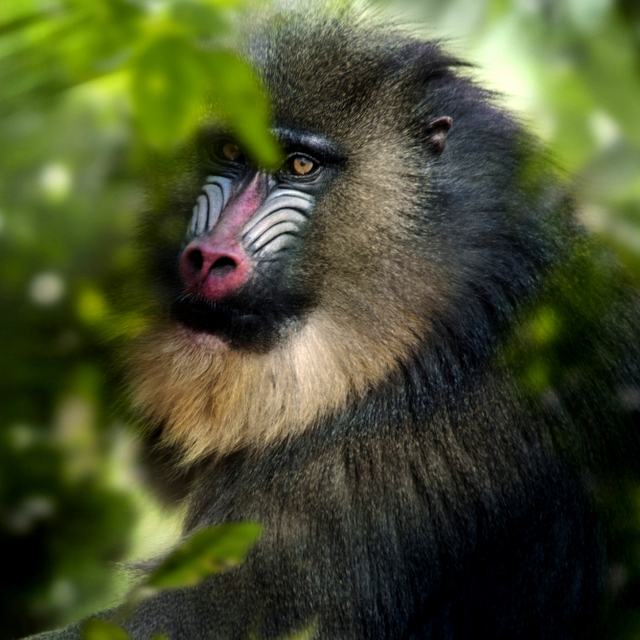 Lope National Park
No other region in Central Africa is considered more vital for primates than Lopé National Park, the oldest and one of the most astounding biospheres on the African continent. A vital refuge to over 1400 endangered mandrills as well as 420 bird species, the national park is equally a stronghold for western gorillas, sun-tailed guenon, black colobus, chimpanzee and forest elephants who thrive in the forest gallery and fingers of lush, misty savannah — interacting landscapes that were created at the end of the last Ice Age almost 12,000 years ago. Bordered by two tributaries of the Ogooué— one of Africa's legendary African rivers, Lopé also served as an ancient trade and migration corridor along the Congo Basin for pygmy tribes. Today, the Ogooué River Valley's deep ridges and forest gallery is a veritable hotspot for prehistoric antiquities and rich, tribal culture. So much, the recent discovery of over 1800 Iron-Age petroglyphs and scant traces of Stone-Age and Iron-Age settlements and artefacts revealed just how significant the region was to Africa's human evolution over the past 400,000 years. Now an inscribed UNESCO World Heritage Site, you can visit the park's eco-museum and delve into the heritage of the Bantu tribes, and the park's profusion of flora and wildlife of every ilk.
If you think you've seen it all on a safari, Lopé is a whole new experience.
Parcs Gabon Wildlife Camp's ecologically-constructed Moabi Tented Camp is located in the midst of rolling savannah at the northern end of the park, just 40-minutes from Lopé National Park Station. An exclusive location that allows you to move with the wildlife and get close to the action.
Creating the sensation of a grand mobile safari, each of the camp's six guest tents have been kitted out with classic safari-style furnishings. Private quarters lit by the luminous glow of parrafin lamps and an extended sitting area where the views are infinite. You also dine beneath the stars on grilled campfire meats, salads and wine at an elegant dining table; a setting where forest elephants, red river hogs or buffalos may also cross your path. For a rested sleep, comfortable beds draped with billowing mosquito netting are ready made for blissful slumber. Only you and a chorus of seranading insects of the savannah.
The camp will open in March, 2020.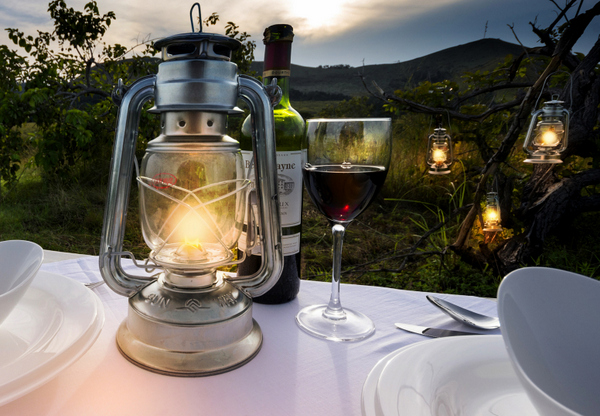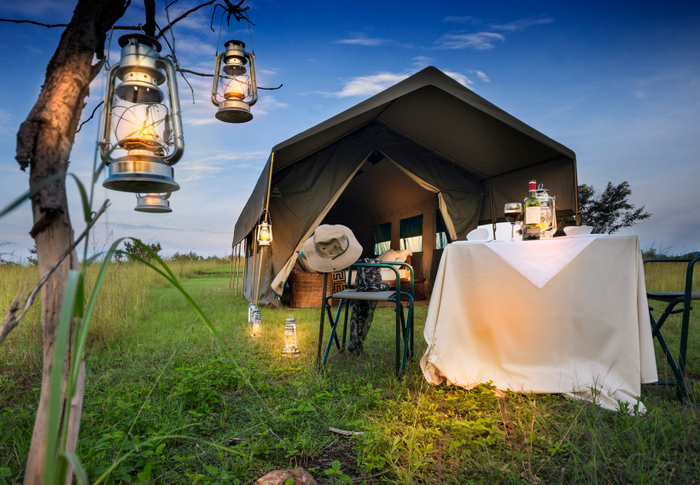 primates
For the best wildlife encounters, the rainy seasons from February – May and October – November will give you the numbers. If you're visiting during the dry season from July – August, you will see an extraordinary gathering of mandrills. Serving as the world's most important refuge for this baboon-like primate, Lopé's mandrills are largely found in the northern end of the park, where they congregate in mass of up to 800 individuals over two short weeks every year in July  — the largest gathering ever recorded exceeded 1350 in numbers. A visit to The Station d'Etudes des gorilles et chimpanzés offers another extraordinary insight into important primate research programs. Here you will be given a presentation and overview of their habits and behaviours of gorillas and chimpanzees.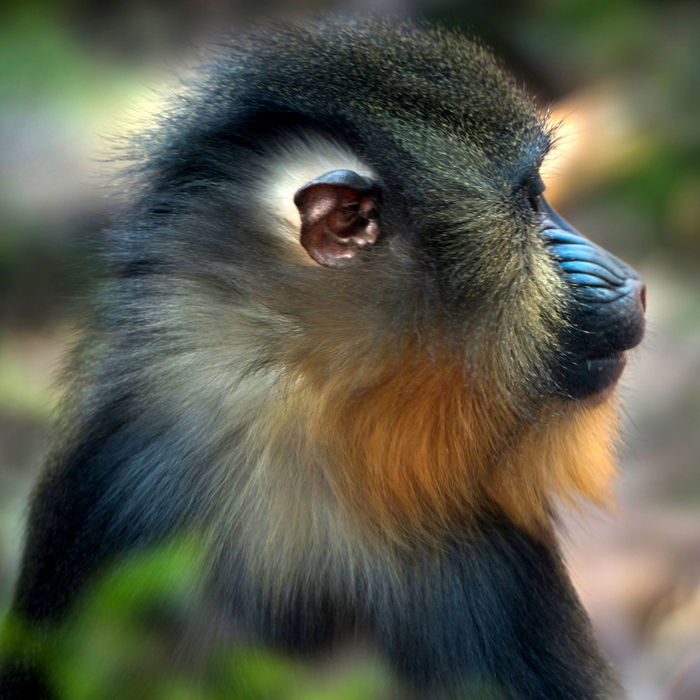 about lopé
Lopé National Park's vast wilderness covers 5,360km2 of virgin forest and intersects pockets of misty savannahs in its northern boundary. The first protected area in Gabon which was established in 1946, this UNESCO World Heritage-listed park nurtures one of Africa's most important prehistoric sites and ecologically significant  reserves for primates. Keeping company with large herds of forest elephants, forest buffalo and a variety of smaller mammals are leopard, golden cat, red river hog, sitatunga, yellow backed duiker and various species of monkeys and apes — 4000 western lowland gorillas, chimpanzee and sun-tailed guenon. An endemic species to Gabon, this long tailed monkey was only discovered just over three decades ago and lives within the hidden forests of the northern end of the park.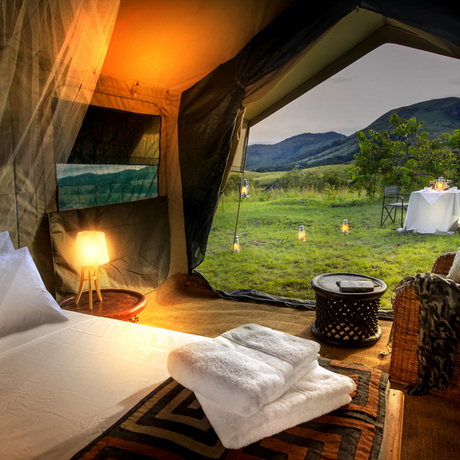 safaris
A safari with a difference, you will track large populations of mandrills, chimpanzees and gorillas with an experienced GWC guide and blaze a series of forest gallery trails on foot. During your visit you may learn about the Bwiti initiation ceremony; rites of passage for Gabonese men while further afield, you'll visit Lopé's UNESCO World Heritage listed rock carvings and prehistoric sites. Another highlight is the climb to the misty summit of Mount Brazza, a journey that retraces the expedition of Italian-born, French explorer Savorgnan di Brazzà, who with the backing of the Société de Géographie de Paris left an open trail for the French to colonise. On a night safari by 4×4 wheel drive, you might spot mangabeys, collabeys and other wildlife.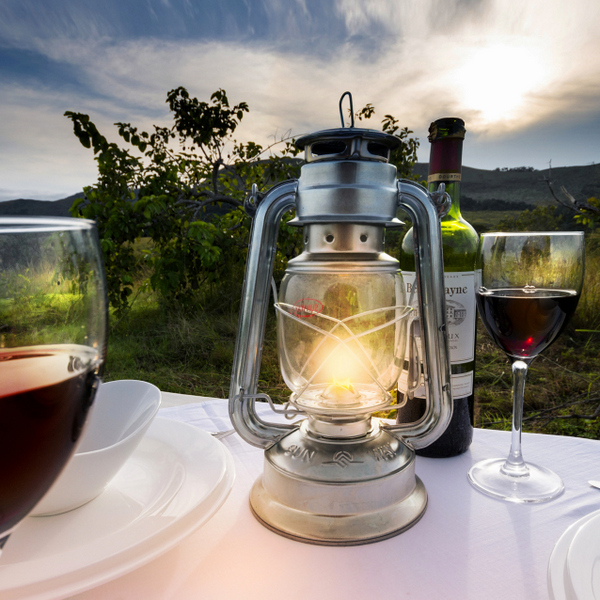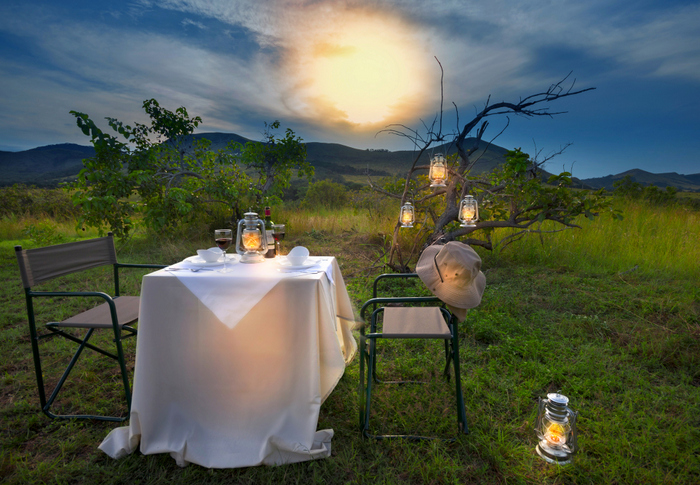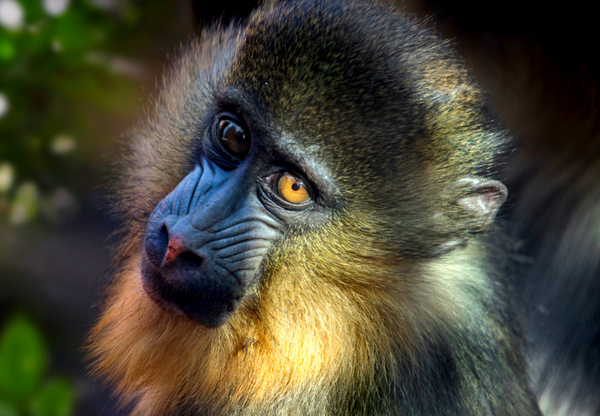 moabi tented camp
Located high on a ridge at Point du Vue overlooking the northern region of Lopé National Park, Moabi Tented Camp places you in an exclusive setting surrounded by exceptional diversity of wildlife and access to the finest in-park activities.
Lined with glowing paraffin lanterns at night to add to the ambience, the six new, low-impact tents accommodate up to two guests; each outfitted with a ready-made double bed draped with mosquito netting and a sitting area with a table and chairs overlooking Lopé's expansive vistas. Once the sun is down evenings pass all too quickly.
Keeping with the ethos of "Green Gabon," recycled rainwater is used for showering and there is no hot water or electricity [there is electricity for fans and chargers].
Dinner is a fare of grilled meats with salads.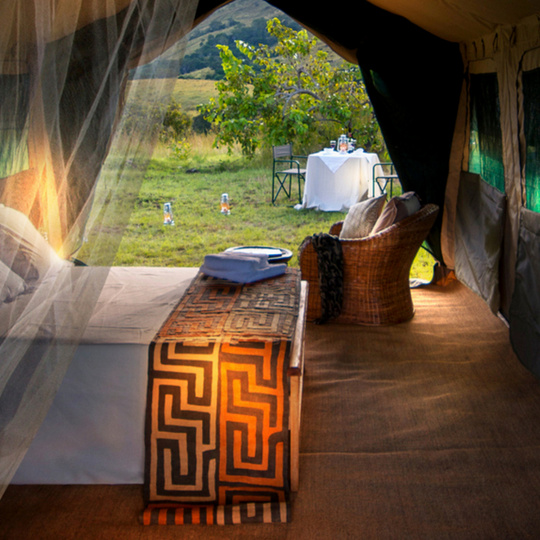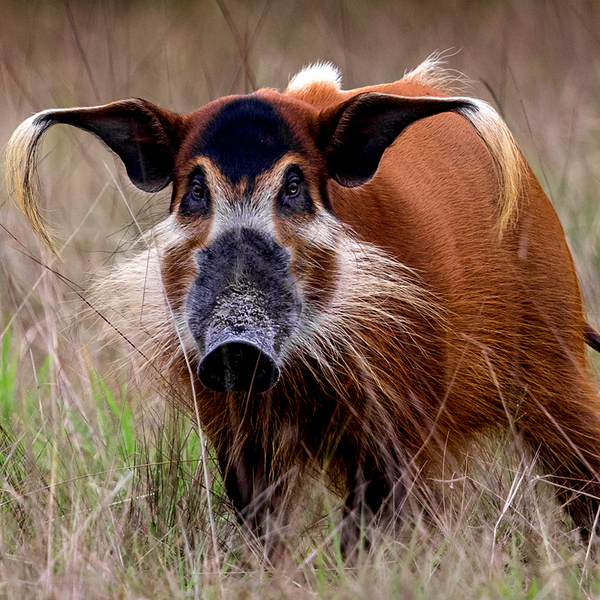 package
At the forefront of our three-day safari in Lopé National Park is primate viewing. Prices are per person based on double or single occupancy and includes overnight accommodation in Libreville [three or four star suited to your budget], transfers upon arrival and departure [Libreville or Makokou] to Lopé National Park, and a full safari at Moabi Tented Camp including all meals [as indicated in the itinerary].
Along with tracking collared mandrills and viewing other wildlife, the  itinerary includes a night safari, a trek and nature walk to Mount Brazza, and a drift boat and a pirogue excursion along the Ogooué River where you will come across UNESCO World Heritage-listed prehistoric rock carvings and a scattering of Stone Age and Neolithic sites. Transport of luggage is in a GWC vehicle.
The three-night safari can be combined with a Langoué and Loango National Park extension along with an optional pirogue and drift boat day excursion along the Ogooué River from Ndjole to Lambaréné where the German-born missionary doctor and humanitarian, Dr Albert Schweitzer established The Hôpital Albert Schweitzer with his wife in 1913. You also overnight at the hospital museum's guest house before returning the following day to Loango National Park.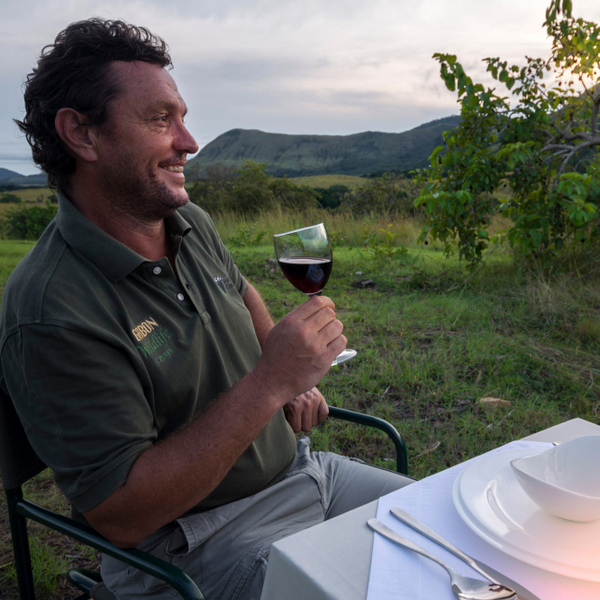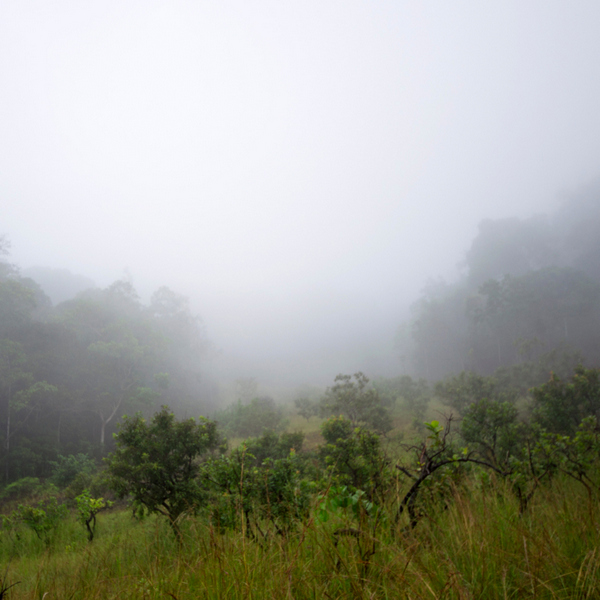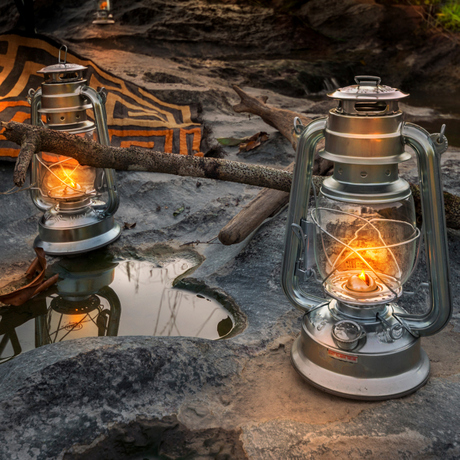 If you're travelling directly to Lopé from Libreville, The Trans Gabon Railway offers the most comfortable experience. Overnighting in the capital upon arrival to Gabon, the air-conditioned train departs at 16.00PM, to Owendo Station [40 minutes from downtown] where you board the express train in first class to the national park, arriving in Lopé at 01.00AM. Though the service comes with meals, we recommend that you bring additional snacks, drinks and something to drape around your shoulders when the airconditioning ramps up. It is also important to note that PGWC will only book your passage on this express train.
A Gabon Wildlife Camps & Safari driver will collect you in one of our vehicles at the station for the 40-minute drive to Moabi Tented Camp.  On the way, don't be surprised by the rough road or the nocturnal animals you may encounter beyond the headlights.
A GWC driver will also see you off at the station. We will also arrange hotel and airport transfers in Libreville.
The safari includes several walking treks when tracking mandrills and other wildlife. To enjoy the trip you should be physically fit and capable of walking a minimum of 5 km on hikes over rough terrain. Excursions also include treks to Mt Brazza and other forest trails. You will have an expert Gabonese tracker who will guide you on the trip.