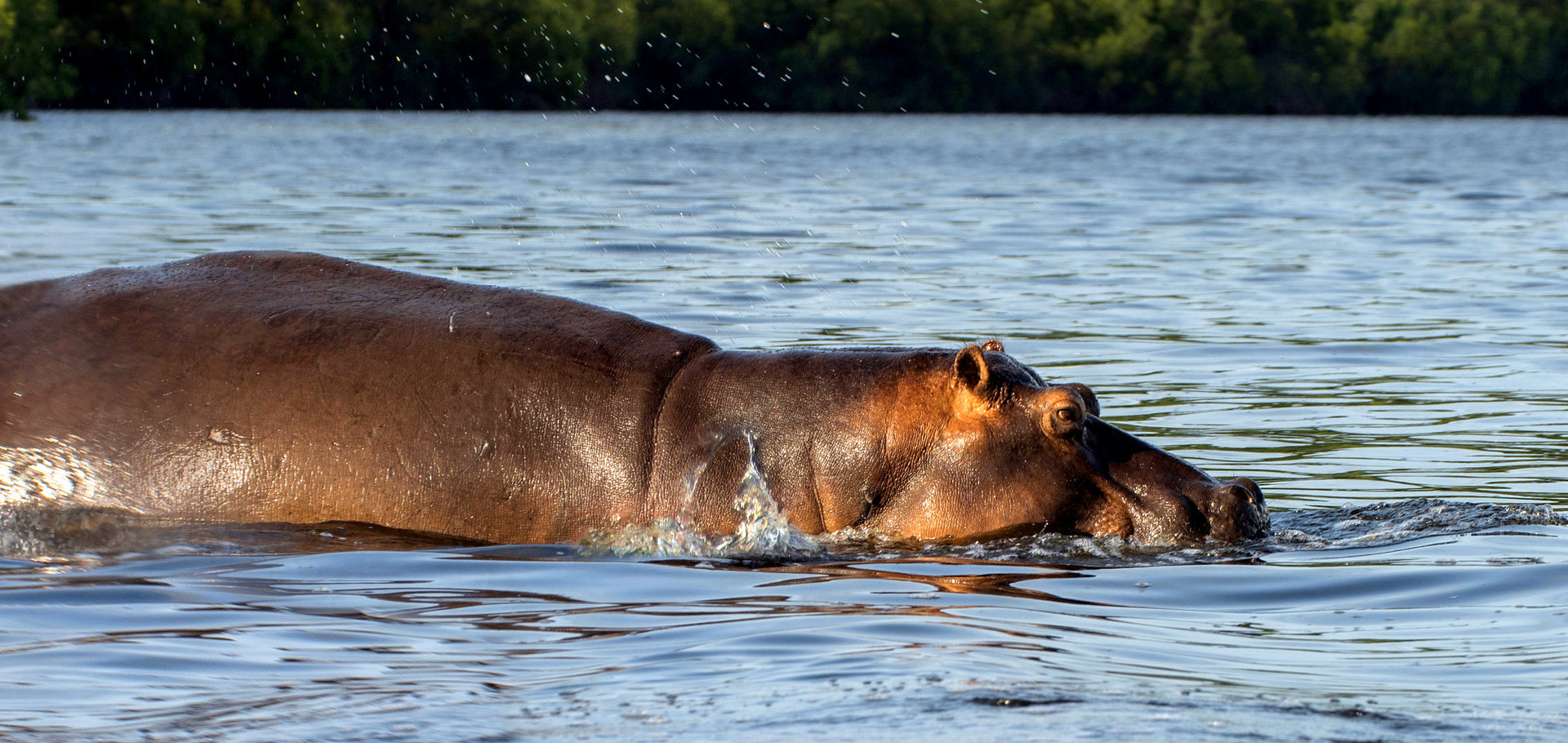 Loango National Park
There are very few places left in Equatorial Africa where you embark on a safari and experience 'Big Five' game yet Loango National Park's remarkable range of biodiversity and pristine ecosystems provide nature lovers and intrepid travellers with such extraordinary occurrences. Famous for its beachcomber forest elephants and surfing hippos that roam its wild coastline, the national park is also brimming with other resplendent guises; mangrove forests, mirrored waterways, speckled tidal lagoons and a vast track of savannah —  epic locations that are always picture-ready for thrilling wildlife viewing. Vast herds of forest elephant, forest buffalo, monkeys, chimpanzee, red river hogs, hippo, sitatunga, duiker, crocodile and hundreds of bird species that sweep across the landscape. On a gorilla trek, you will also have a breaktaking introduction to a troop of habituated western lowland gorillas that thrive in what is considered one of the world's most intact primate habitats.
Another slice of Loango's magic lies with the much-anticipated arrival of migrating dolphins, whales and nesting sea turtles — thousands of leatherback and olive ridley that swim the world's currents to lay their eggs on Loango's shores. But it is at dusk, when the boma fires and paraffin lanterns begin to flicker and the sun's last golden rays dip beyond the horizon, do you realise that the park's all-consuming splendour lends itself to another time. A refuge of unspoiled splendour.
Gabon Wildlife Camps & Safaris is proud to offer four different lodges and satellite camps within Loango National Park. Each guest stay will not only propel you into the heart of Loango National Park's extraordinary diversity and beauty, but our bespoke green safaris will additionally award you with direct access to most thrilling wildlife encounters during the dry and rainy seasons. Tantalising journeys which begin from the moment you step outside your front door.
From the deck of Akaka Camp, you might spot forest buffalo, forest elephant or sitatunga in the forest while at Louri River Camp, you will have a ringside seat at the water's edge. Here, you will see hippo, forest elephant and dozens of different colourful birds— some will even whoop and call out to you. As you move inland, the beautiful coastal savannah serves as a backdrop for Tassi Savannah Camp, a seasonal tented camp that gives you another unique experience during the dry season. Here you can track mammals, both large and small in a patch of remote grasslands that is unique to Central Africa. And on the banks of Iguela Lagoon is Loango Camps where you'll have direct access to the park's ribbon of tranquil waterways and hidden coves. More relaxed in its approach— the lodge's tropical charm is a wonderful option to the secluded wilderness camps positioned within the park. Here you can dine outside and watch 
Secluded and exclusive, you can also enjoy any number of water activities — sports fishing, birdwatching, turtle viewing and river cruising —  unique adventures that are only interrupted by hippos and forest elephants wading in the river. And if you're yearning for a stunning crimson sunset, we can drive you to the beach where you can sit by a campfire and sip on a Sundowner — perhaps even enjoy a sunset cruise.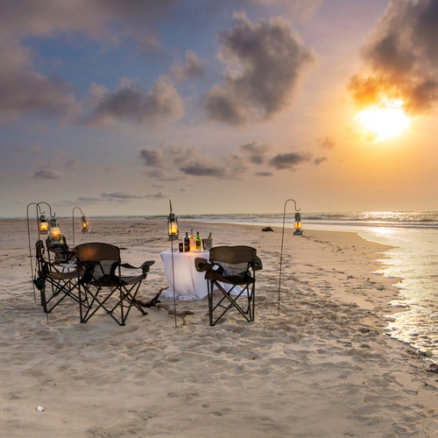 seasons
Loango National Park has distinct dry [December to January and May to September] and rainy seasons [February to April and October to December].  Yet each season in unveils its particular brand of magic with plenty of opportunities to come face-to-face with wildlife.
November to March: The arrival of nesting turtles and hatchlings. November to April: Elephants and hippos venture on the beaches; July to September: Migratory whales arrive during the breeding season; November to April: Best time for sports fishing; March to May: To view the Atananga gorillas; September to June: Best time to view the wildlife in the northern end of the park during the rainy season: June to September: During the dry season, wildlife migrate to the southern region of the park.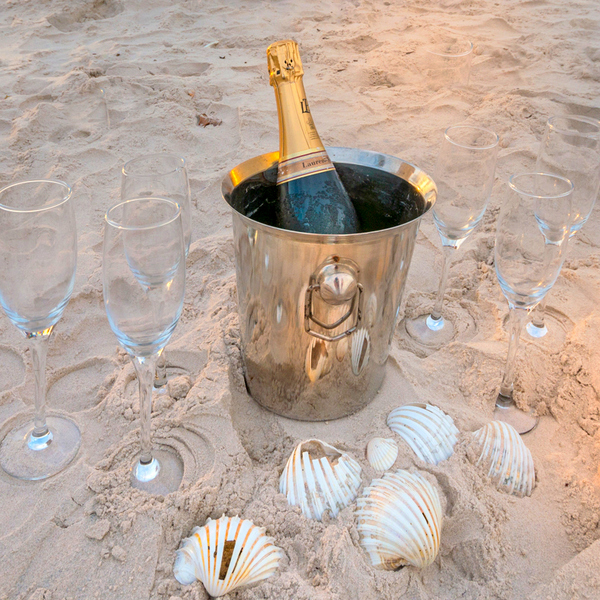 the atlantic
The arrival of migratory whales and dolphins hits its stride from mid-July to mid-September. You can enjoy a day on a chartered boat viewing playful bottlenose dolphins or humpback whales from any vantage point —  especially when they breach at great heights or as they encircle or swim beneath your boat. 
If you arrive between October and February, you can head out at night and view the largest population of leatherback sea turtles nest on Loango's beach. Also joining them on the move during the migratory season are hundreds of olive ridley and hawksbill sea turtles. The nightly tours are conducted by eco-guides who safeguard the turtles and their hatchlings throughout this epic cycle.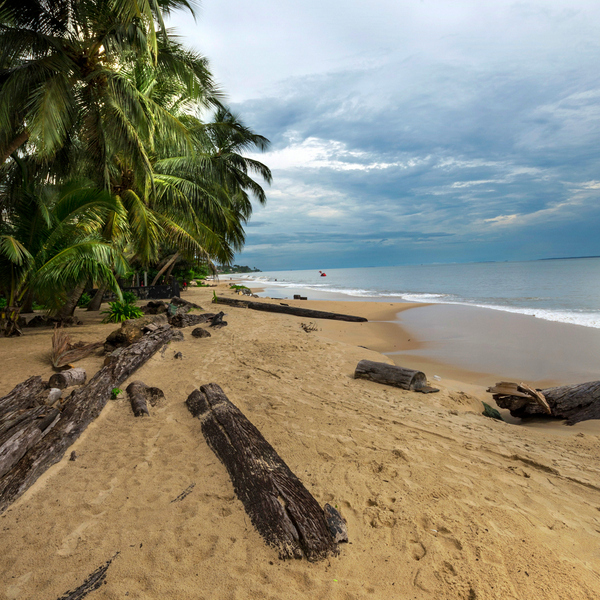 landscape
Loango National Park's safari circuit offers prime game viewing, which starts along the palm-fringed beaches of the Atlantic — one of the last remaining wild coastlines of West Africa. Here you will see forest elephants and if you're lucky, hippos venturing towards the surf along with sightings of monkeys and chimpanzees in the distant trees. In fact, the park itself is immense, covering 1,550km² of lagoons, jungle and savannah, and it is blessed with ever-moving wildlife — reptiles, birds and many large and small mammals including a troop of habituated western lowland gorillas. Then there's the abundance of flora. On a slow boat or pirogue — even by foot, you will immerse yourself in the lushness of it all; towering trees covered in lichen; exotic ferns and colourful mushrooms that burst out from the forest floor.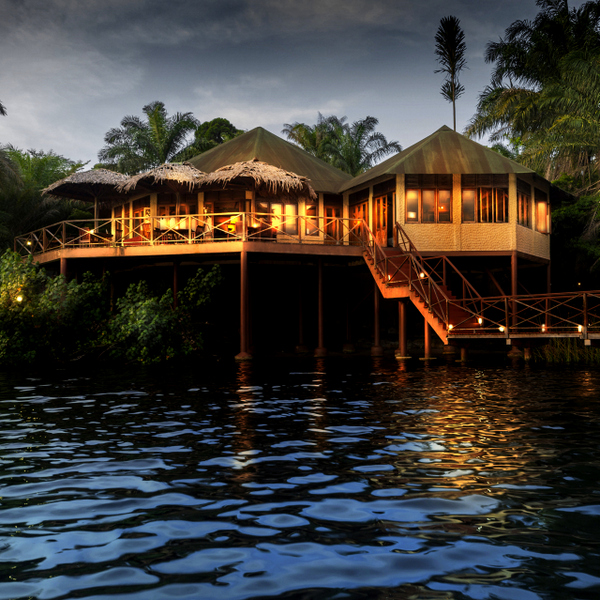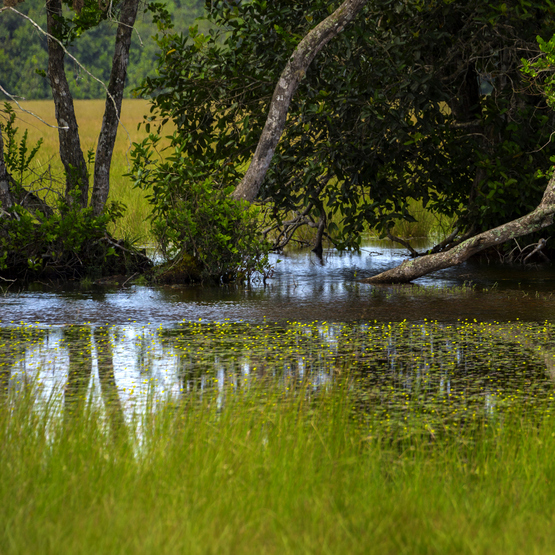 boat trips
A ribbon of waterway intersects Loango National Park; an expansive lagoon dotted with pocket islets with each begging to be explored. From any rippled space along the water you will view an abundance of animated wildlife on the banks; several different species of monkeys and many rare bird species — rosy bee-eaters, quail finch, Loango weaver and Congo River martins. As you pass Iguela lagoon, you will also hear of great sports fishing tales including the park's catch-and-release program and record catches of barracuda and tarpon. Even the occasional shark.

But for many guests, the long-standing tradition is to view wading hippopotamus, forest elephant, forest buffalo and if you're game, three different species of crocodile.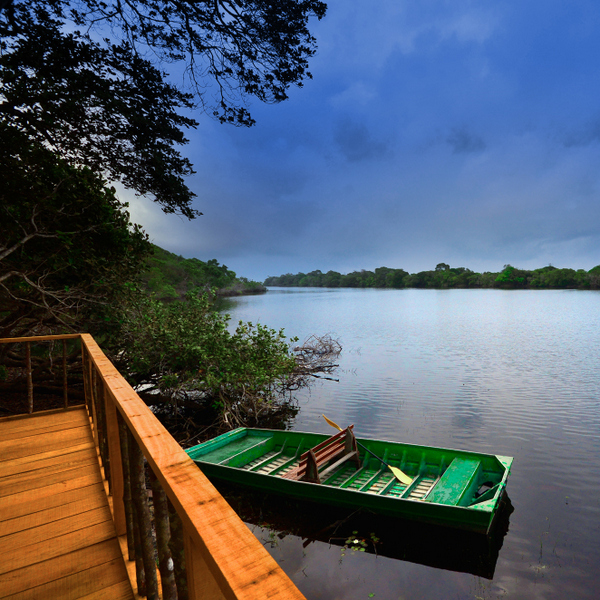 conservation
At the forefront of our park activities are a series of conservation programs, which we tailor for guests. Leading the Loango Gorilla Project is The Max Planck Institute of Evolutionary Anthropology, which we partner in association with Agence Nationale Des Parcs Nationaux Du Gabon [ANPN]. Our eco-tourism safari includes an educational presentation at the research centre and visiting the Atananga troop — a family of protected western lowland gorillas and the first to be habituated in Loango.
To safeguard them from minimal disturbance, visitation is restricted to four times a week and you will be required to be in good health and wear a mask. No more than four guests can visit the troop at any given time.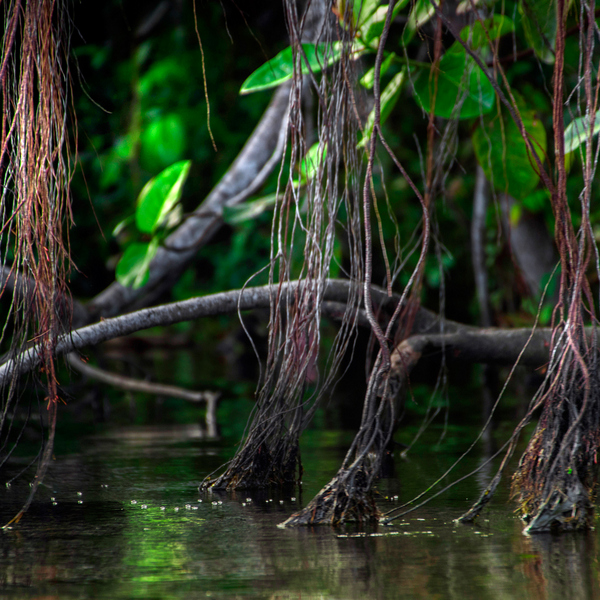 sports fishing
Very few places offer spectacular and exclusive sports fishing experiences with a variety of catch that could fill an entire ocean. Just 10-minutes from Loango Camps is the point where the estuary empties into the ocean — a prime fishing spot that contains some of the largest game fish in the world including gargantuan-sized barracuda and cubera. But to catch the fish, you must be ready to cast off before dawn. 
Loango Camps guests also have exclusive access to the park's smaller lagoons and superb fly-fishing. Our catch-and-release packages include accommodation, fly and tackle gear, fishing guide, fishing permit and extended overnight and multiple-day safaris at any of our other satellite camps on Loango's safari circuit.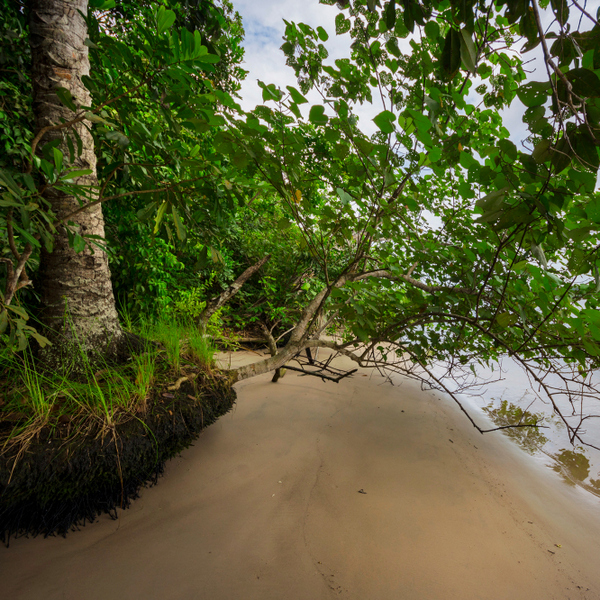 safaris
With each GWC campsite and lodge exclusively positioned near the coast, in the forest, alongside the river or in the savannah, you will have an authentic wilderness experience right outside your door. Spend days trekking a diverse landscape of intersecting savannah, rainforest and dense mangrove swamps where you will spot forest elephant, chimpanzee, forest buffalo, red river hogs, assorted monkeys, birds and sitatunga. Another safari highlight is our a gorilla trek, where you will see a troop of habituated gorillas in their natural forest habitat — just as nature intended. Like all coastal sanctuaries, sunsets in Loango are often viewed either on the beach or by the water.  Perhaps enjoy an evening boat trip along the estuary, where you will glide past submerged crocodiles, hippos and serenading frogs on lily pads.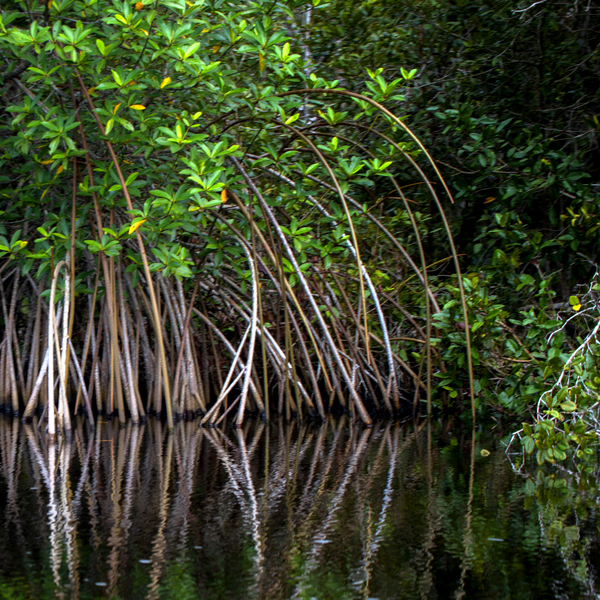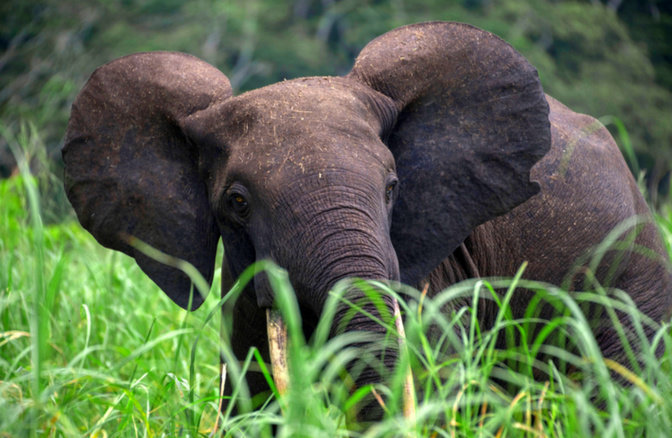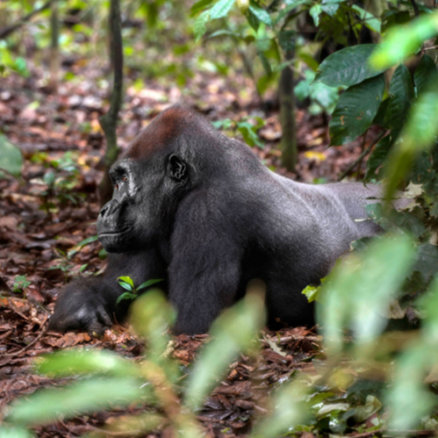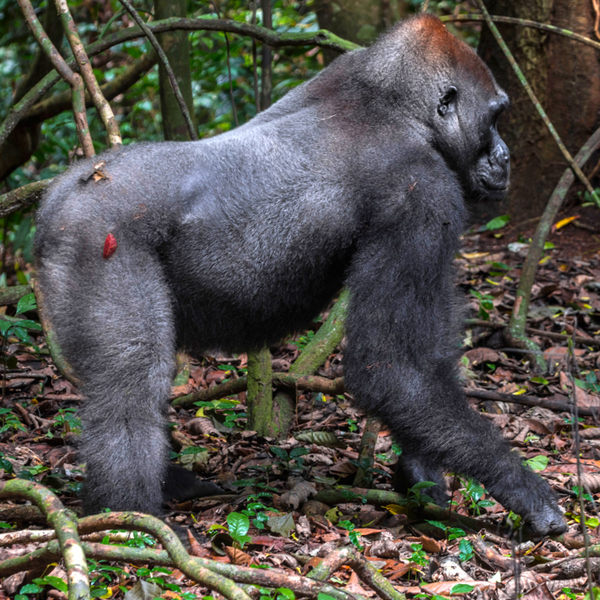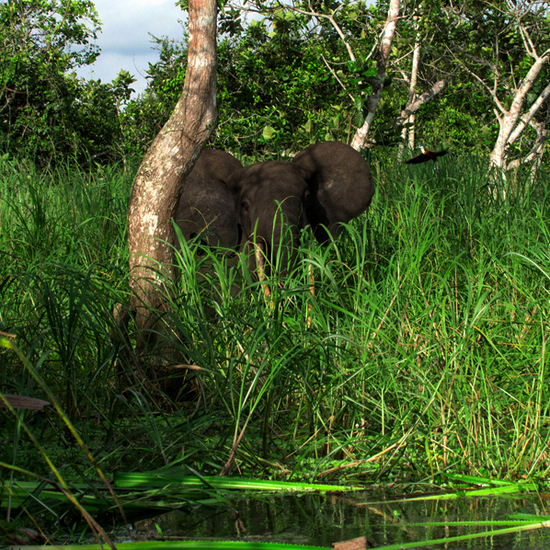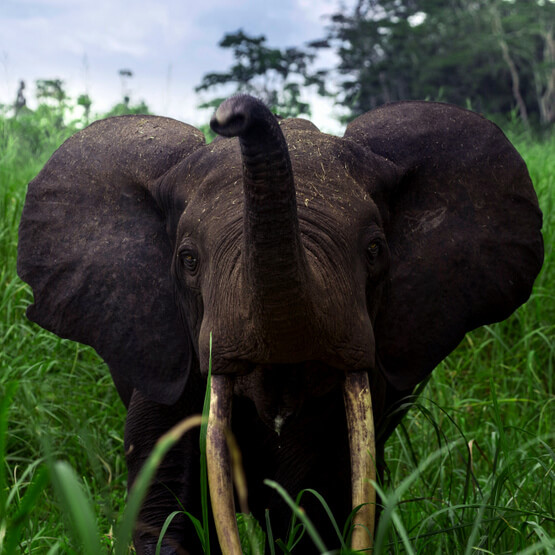 akaka forest camp
Akaka Forest Camp is nestled deep in the jungle at the crossing of the Ngowe and Echira rivers and is just 60 kilometres by boat from Loango Camps.
One of three satellite camps within Loango National Park, all five of Akaka's safari tents are mounted on platforms and are outfitted with two single beds [which can convert to a king bed] along with an ensuite bathroom with a shower that faces the forest. And if you are looking for some extra night-time illumination, there are several discrete electrical connections for plug and charge points, pedestal fans and soft lighting.
Along with enjoying delicious meals that are prepared onsite, you can embrace the bewitching views of the waterway outside the restaurant and bar's expansive terrace under incredible night skies. From any vantage point, even the most casual observer will find plenty of wildlife to spot, including hippos and forest elephants. If you're lucky, you may even site a family of chimpanzees crossing the river in search of the Ozouga tree's delectable fruits.
At sunrise, you will wake to a medley of high-pitched calls by Akaka's birdlife — none more distinctive than the black casqued hornbill. By the dry season, thousands of water birds herons, storks, jacanas, pelicans, ibis and the rarely seen Hartlaubs also amass — each vying for the last drops of liquid gold remaining in the small pools of water.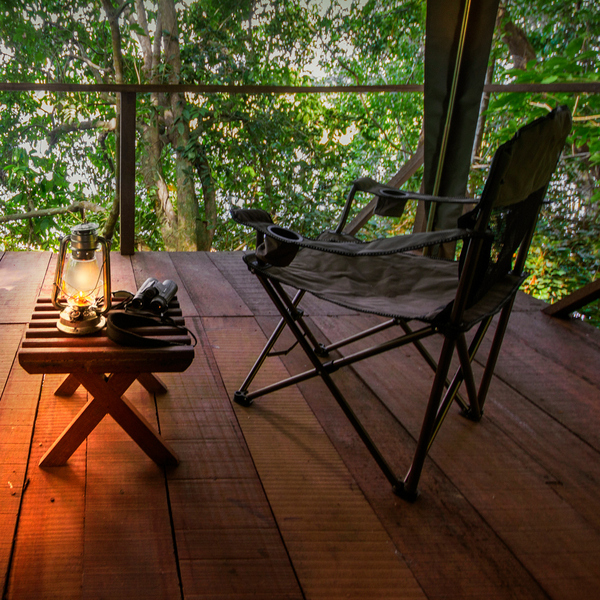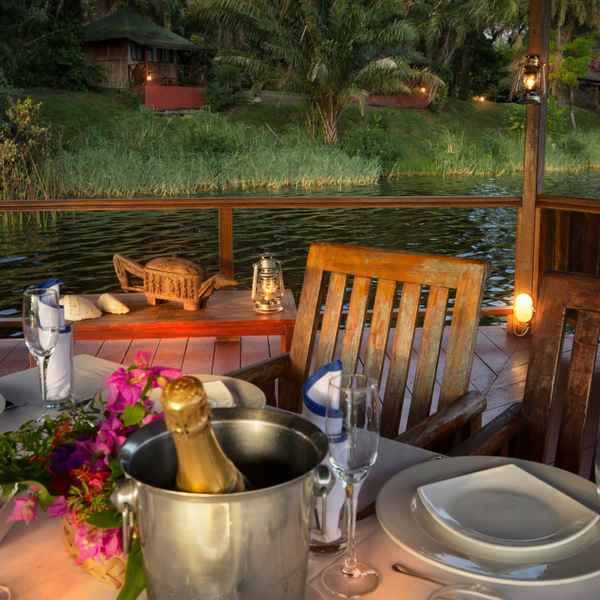 loango camps
Located in the northern end of Loango National Park on Iguela Lagoon, Loango Camps' exclusive setting offers the perfect location to begin an in-park safari or sports-fishing holiday.
Guests can choose from a two-bedroom family house; three suites and seven comfortable wooden bungalows with private terraces that offer uninterrupted views of the water and national park. Each guest suite also features air-conditioning, laundry service and ensuite bathrooms with hairdryers on request. Each one-bedroom suite also features a bath.
If you want to remain connected, there is an Internet facility at the restaurant and bar, which overlooks an expansive wooden deck that fans across into the water. — the perfect spot to enjoy a private dinner. The food, too, is exceptional with the menu focused on Loango's sustainable cuisine. 
When you're keen to explore the jungle beyond, there is plenty to see and do during your stay. Go on a gorilla trek and view the habituated Atananga troop in their natural glory. And along the way, view forest elephant, forest buffalo and massive hippos cool themselves in the waters.

Just over 40-minutes away by boat is the Atlantic Ocean where you can walk the soft-sand, catch a few waves or sit around a log fire at dusk as the fiery sun melts into the horizon. A tantalising ending where Loango's wild beauty never lets up.
..
louri wilderness camp
You could happily spend your entire stay at Louri Wilderness Camp, an intimate but low-impact safari-style tented camp that nestles in the forest on the banks of Louri Lagoon.
Separated by a narrow strip of beach that runs parallel to the Atlantic Ocean, the camp was the first to be constructed by using the exclusive skills of nearby villagers. Featuring five well-appointed tents mounted on a platform, each suite comes with a private terrace facing the river and is outfitted with two single beds [which convert into a king bed], and an ensuite bathroom with an outside shower along with pedestal fans and USB charge points.
During the day, explore the bays and creeks and their extraordinary aquatic life in a small, flatbottom aluminium boat. 
Evenings are also actioned-packed. After enjoying our famous barbeque, go on a night time safari or a sunset cruise across the lagoon's mirrored waters. But before you do, take in the views from the restaurant's terrace. Here you may spot duiker and chimpanzee amid the dense trees. And just beyond the camp, you will see submerged hippos floating in the water along with wading forest elephant, forest buffalo and the largest crocodiles found in Gabon.
For the perfect bedtime story? Fall asleep to the sounds of the nocturnal calls and the rolling waves that caress the shores.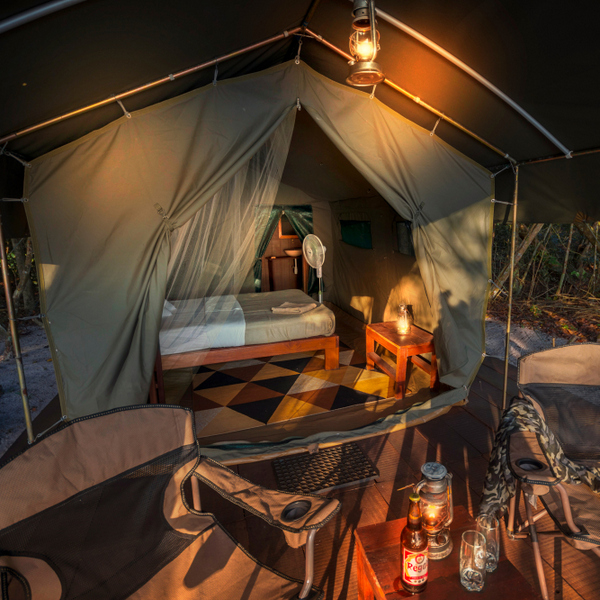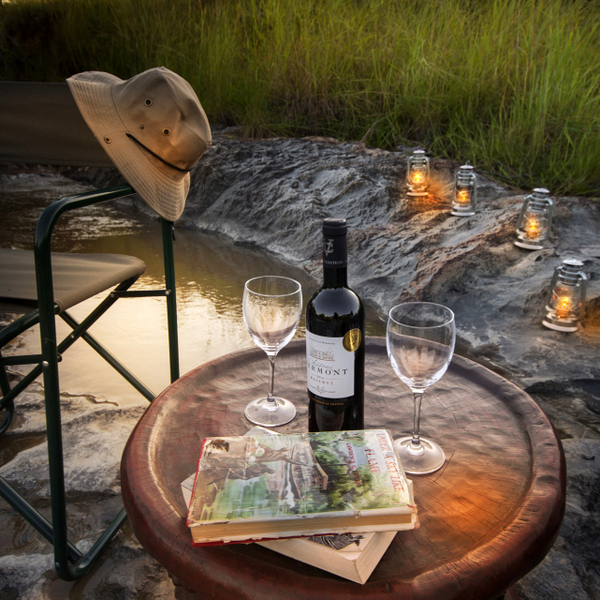 tassi savannah camp
Just 90 minutes from Loango Camps is Tassi Savannah Camp; our rainy-season mobile camp, which is constructed in part to maximise the eye-grabbing views of the savannah, and the Atlantic's storybook coast. Remote and wild, the camp is also a haven for migratory leatherback, hawksbill and olive ridley sea turtles, and a magnet for a colony of nesting birds including the red-beaked African skimmer and the rarely-seen damara tern.
Located close to the Max Planck Institute of Evolutionary Anthropology research camp, which founded the Loango Chimpanzee Project [LCP] in 2005 for the dual purpose of research and the development of eco-tourism.
Here, you can wake up on some mornings and view grazing forest buffalos and red river hogs — even a possible sighting of chimpanzees crossing the river to forage on the sweet sensations of Loango's plentiful Ozouga trees.
With five, classic safari tents mounted on a platform, each feature two single beds [which convert into a king bed] and ensuite bathrooms. From the camp, you can easily access the trails with your guide to see Loango's savannah in all of its brilliant hues.
Enjoy an evening safari or walk the beach when the night sky is full of stars. And when you return back to camp, pull up a camp chair by the fire, kick back with a Sundowner and listen to the savannah's nocturnal sounds.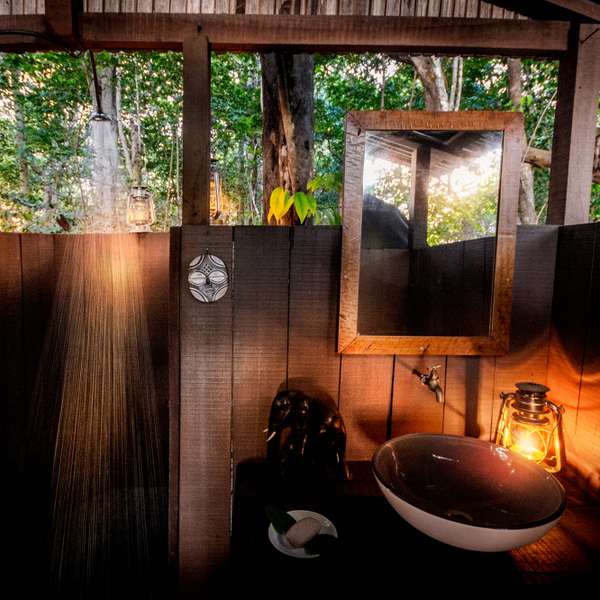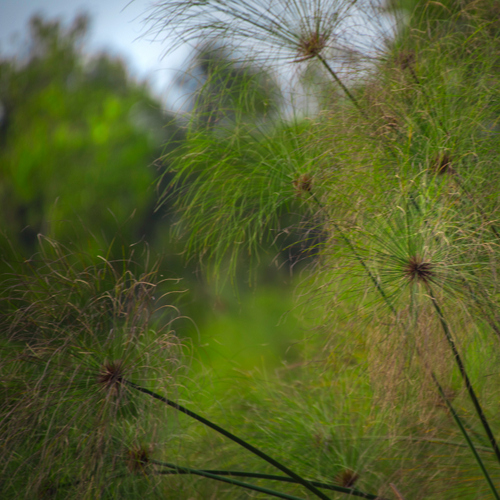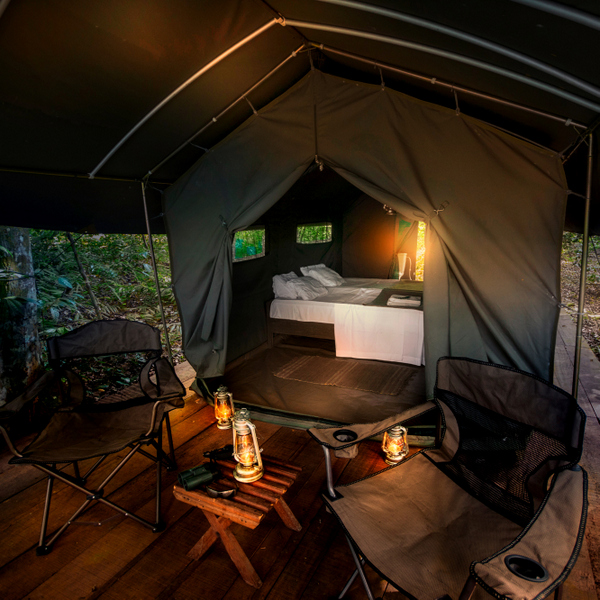 After an overnight stay in Libreville, you will be met at your hotel and taken to the airport for your short, 30-minute flight to Port-Gentil. Upon arrival, another GWC driver meet you for the three-hour drive to Loango National Park in a luxury, air-conditioned 4 x 4 wheel drive.
Our safaris require travellers to be physically fit. Along with tracking primates including gorillas, you will be trekking through dense jungle and travelling by boat or pirogue through the wetlands. Often requires long hikes. Guests over the age of 65 are required to produce a current medical certificate confirming their physical well-being.